Have you ever been on a flight where an announcement is made that in-flight entertainment is having issues? 
This experience can kill your flight enjoyment, especially if it's on an international flight.
How do you begin to make your flight more comfortable and fun when things such as this happen?  
In this post, there 5 ways of creating your flight entertainment without causing unrest to other passengers onboard your flight. A selection of travel experts was able to come up with this list for us and here we are telling you about it.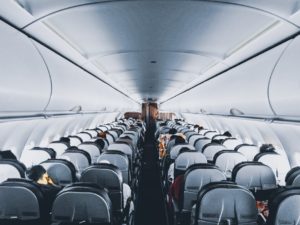 No Wifi? Play games
No matter the reason for your travel, there is always an opportunity for you to create your convenience when other options fail. Your perspective and mindset will help you make a shift from the category of the "complainers" to those who enjoy the fun without fuming.
Who says you need a Wi-fi to enjoy your flight? You can try out some of these friendly games…
Practice your chess skill or play offline games
Travel experts have claimed that playing offline games or improving your killer moves on chess games while onboard can go a long way at killing boredom. There are few other games you can access without a Wi-fi like Yahtzee, Puzzle books, Paper games like Tic' Tac Toe or hangman.
Creative writing
When traveling a long distance, the silence that comes due to the inactive entertainment facilities will result in a kind of silence you can take advantage of to tap the inspiration you need to write. 
You don't have to be a journalist or regular writer to scribble some words you will later be proud of on paper. You can write a short film, comedy skits or even a poem.  Writing while on air is one of the many enjoyable things you can do.
Read More: How to Dress for a flight Travel
Keep your hands busy
You can start a small knitting project and complete it even before your flight gets to the destination. You can extend the fun by taking a few pictures to make the project a memorable one. 
You can also choose to arrange and put your photos in order, read documents you've not had the time to read or capture the skylines if you are sitting by the window.
Talk to people
You can start a conversation with your seatmates or flight attendant about virtually any topic in the world, provided he or she is ready to engage in such a conversation. This convo could give you good details about your destinations and increase your anticipation.
Other conversations like previous flight experience can be one of the best topics to talk about. You should also learn to listen while they talk to create a balance.
Talking to people can be lots of fun, but be quite sure that your seatmate is in the mood to engage in a conversation with you.
Read More: 4 Things to Avoid When Packing a Carry-on Bag
Do a stretch out Yoga
Traveling long-haul flights can cause some uneasiness and tension in your body system. This can be worse if you've had delays before boarding.
Experience physicians advise that, in situations such as this, you are advised to stand up periodically to stretch your muscles at least, in an hour interval. This could prevent blood clotting, i.e deep vein thrombosis.
There are a few yoga poses you can do that won't disturb your seatmate or raise unnecessary eyebrows. 
As one of the experts in travels and tour business with years of reputable experience, we believe these tips will be helpful to you and other people you share this post with. 
Time can be quite short when boredom and restlessness is taken off on a "No Wi-fi" flight.
Have you ever experienced a long flight without entertainment? Tell us about it in the comment section.
https://grandeurtravelsng.com/wp-content/uploads/2020/02/e61.jpeg
1251
1880
Grandeur Travels
https://grandeurtravelsng.com/wp-content/uploads/2018/11/grandeur_travels-nig.png
Grandeur Travels
2020-02-27 02:14:16
2020-02-27 02:14:16
5‌ ‌fun‌ ‌things‌ ‌to‌ ‌do‌ ‌on‌ ‌a‌ ‌flight‌